From the Sharepoint Portal (Word for Word): ​DeKalb County School District (DCSD) has completed its most recent Compensation & Class Study, mandated by Board of Education Policy GCA. Under this policy, the district is required to complete a comprehensive review of its compensation program every five years and implement changes as needed.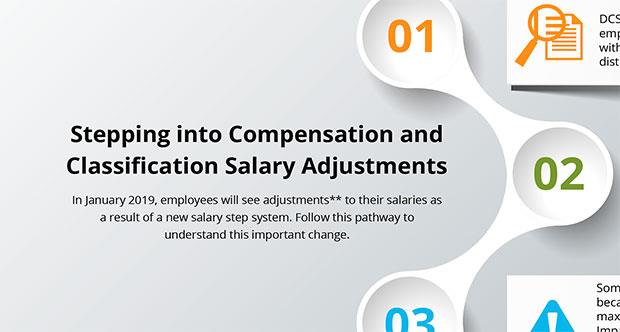 In accordance with this policy, DCSD is once again implementing a step-raise program at all levels. A step-raise program assesses a worker's ability, education, experience, and overall contribution to the district, and places them on a scale. Where you are placed on such a scale determines your eligibility for future raises.
The salaries of DCSD employees are being adjusted to align with the new salary steps. This means many employees will receive an increase in their salary, within budget specifications.
Salary Step Structures for both classified and certified employees will be implemented on the January 31st paycheck and also applied retroactively back to Jan. 1, 2019.**
The Salary Step Structures are for all certificated staff to include: Teachers, Counselors, Occupational Therapists, Physical Therapists, Speech Therapists, Social Workers, and Library Specialists as well as all Classified Staff to include: Bus Drivers, Custodians, Food Service Workers, Nurses, Bus Monitors, Paraprofessionals/Teacher Aides, Bookkeepers in the school, Campus Supervisors, Secretaries in the school, Clerks in the school, Interpreters in the school, Informat​​ion Technology Technicians in the school, Registrars, Receptionists in the school, Liaisons in the school, Administrative Assistants in the school, School Healthcare Workers as well as the Classified Staff in the District Office who are not school-based.
No one's salary will decrease as a result of the Compensation and Class Study.
An infographic and FAQ explain the steps leading to the adjustment. (These documents are attachments to your email.)
– Compensation & Classification Study FAQ​ ​​
– Compensation & Classification Salary Adjustments Infographic ​​
For more information, please contact DCSD Human Capital Management on Mondays, Wednesdays, and Fridays through the end of January 2019 at 678-621-1992 between 10 a.m. and 3 p.m.
**As we proceed with the intricate process, we may encounter some technical difficulties, and therefore may need to delay the full roll-out for the sake of accuracy. Should this be the case, be assured that all compensation will be retroactive to January 1, 2019 regardless. ​
---
FAQ – Compensation & Classification Study FAQs-December 2018
1. What is the current status of the study?
The study has been completed and the recommendations of the Classification & Compensation Study findings are being implemented within budget specifications.
2. What did Management Advisory Group (MAG) do during the Classification & Compensation Study?
Our consultant, Management Advisory Group (MAG), analyzed internal and external data to determine opportunities for improvement in the current classification and compensation systems. Tasks included an analysis of classification information collected via the Job Assessment Tool (JAT), an analysis of market data collected by a salary survey of benchmarked classifications, focus groups with a cross-representation of staff and the development of recommendations for a classification and compensation system, that is internally equitable and externally competitive.
3. From which organizations did Management Advisory Group (MAG) collect market data by a salary survey?
There were 5 school districts in the Metro Atlanta area that Management Advisory Group (MAG) utilized as ("peer") school districts/systems for this study which included: Gwinnett County Public Schools, Cobb County School District, Atlanta Public Schools, Fulton County Schools and Henry County Public Schools.
4. How did MAG compare DeKalb County School District (DCSD) with other school districts/systems?
Benchmark positions Uobs) were selected that were representative of DCSD positions. Benchmark jobs are those with a clear and consistent definition in the relevant labor market, for which reliable market data may be collected. These benchmark positions were matched with positions in peer school districts/systems to compare the salary range and average actual salaries offered by peer school districts/systems. Employees' JAT submissions were used to inform the matches so that the actual job duties performed were compared with peer school districts/systems, instead of simply comparing job titles. Matches were then reviewed by Human Capital MGMT/MAG staff to ensure that only appropriate matches were used. Once all the matches had been finalized, the average salary (both range and average actual salary) from peer school districts/systems were compared to the salary offered by DCSD to determine if DCSD was "behind" or "ahead" of the market.
5. I know someone at a peer organization with my same job title, and they make more than I do. Will I be getting a raise?
It is important to remember that actual salaries can be affected by