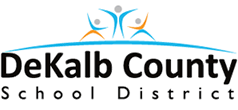 Hurricane Irma
[Updated at 2:15pm 9/10/2017] – The DeKalb County School District (DCSD) will close all schools and offices on Monday, Sept. 11, 2017, and Tuesday, Sept. 12, 2017, due to potential inclement weather caused by Hurricane Irma. Also, all scheduled meetings, extracurricular activities, and sporting events will be canceled.

2017 ACT Scores Show Some Academic Progress
In 2017, more than 2,500 students in the DeKalb County School District (DCSD) took the ACT, earning a composite score of 19.8, compared to last year's composite score of 19.4. DCSD is still below the state average and is closing in on the national average composite score of 21.
Georgia, however, beat the national average for the second time in a row. Georgia students scored an average of 21.4 on the 36-point scale.

Superintendent Green's Statement on DACA
Superintendent Stephen Green says President Trump is wrong regarding Trump's plan to end the Deferred Action for Childhood Arrivals (DACA) program – which provides a level of amnesty to certain undocumented immigrants who came to the U.S. as children – with a six-month delay for current recipients.
Dr. Green says he does not support it and will vigorously oppose Trump's dissolution. Read Entire Statement Here >>

Ashford Park Elementary Teacher Wins $5,000 for STEM
Congratulations to Candice Leonard, a fifth-grade teacher at Ashford Park Elementary School! She is the winner of Orkin's Start with Science™ Classroom Contest via Facebook. As the winner, Candice will receive $5,000 in DonorsChoose.org funds to help bring her STEM classroom projects to life.
Thanks to the help of her DCSD team, she garnered enough likes on Facebook to win the grand prize. According to Orkin's page on Facebook, she will purchase classroom materials and help low-income students fund science fair projects.

Digital Dreamers Initiative Underway
DCSD is embarking on a two-year effort to provide its students and teachers with new laptops and internet access through the "Digital Dreamers" initiative.
This Fall, middle and high school students will be provided new touchscreen Chromebooks. Eligible and qualified students will receive mobile hotspots provided by Sprint. Nearly 300 students at Cedar Grove High School have already received mobile wireless hotspots.