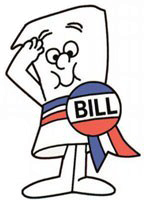 8 days left in the legislative session, here's where we are.

SR 192 – Elect School Superintendents and Appoint School Boards
Senate Resolution 192 is a Constitutional amendment to allow a local decision to vote for the superintendent and have the grand jury appoint the board.
The Georgia Senate has already passed the resolution, which allows local school districts to choose if they want to elect a superintendent and have a school board appointed by a grand jury.
Local school superintendents are currently hired by elected school board members.
The House has to approve the resolution with two-thirds support, and Georgia voters would have to approve the constitutional amendment on the November 2018 election, said state Sen. John Wilkinson, R-Toccoa, who wrote the resolution.
Then, local legislative delegations would decide whether to put the resolution before voters on a local ballot, which would then require at least 50 percent voter approval, said Tippins.
If a district does choose to elect a superintendent, the superintendent candidates would have to meet election residency requirements in order to qualify for the race. That means candidates for superintendent would be limited to those who live in a particular school system.

---
HB 425 – Opt Out of Standardized Testing
House Bill 425 would discourage punitive actions for students refusing to participate in federal, state or local mandated standardized testing.
Traditionally, many school districts like DeKalb insist that students cannot opt out of standardized testing and that those students who do not take the standardized tests will be penalized in accordance with Georgia Law O.C.G.A. §20-2-281
This bill passed the House 4-1 and is now in the Senate.

---
HB 273 – The Recess Bill
House Bill 273 would require local boards of education to schedule a daily recess for students in grades K-5. Recess would consist of at least 30 minutes of supervised unstructured activity time, preferably outdoors.
The state currently has no minimum unstructured playtime.  DeKalb County School District Policy IEDA requires grades K-5 to have at least 15 minutes of supervised, unstructured break time each school day.
This bill is currently being "held for further work with the author to make it aspirational instead of a mandate to avoid unintended consequences".  I'm guessing the legislature is concerned about how schools would implement this requirement (i.e. would they reduce instruction, extend the day, etc … ).

---
HB 338 – Plan B to the Opportunity School District (OSD)
"Plan B," also known as House Bill 338, was up in the Senate Education & Youth Committee for public comment. State Supt. Richard Woods gave detailed testimony on the bill and the Department's efforts on school improvement then answered the Senators' questions.
Concerns about the bill had a common theme: the efficiency of the State Board directing this instead of the elected State Superintendent; the need for a clearer definition of what makes a school eligible for the program; the need for exit criteria; the lack of funding; and in our case, the removal of school board members.
No vote was taken. A substitute bill is expected on Wednesday.