The new school going up in Brookhaven to be named John Lewis Elementary.
Video & Transcript

  Work Session discussion on John Lewis Elementary

  Business Meeting discussion on John Lewis Elementary
In March, the DeKalb Board of Education approved the Cross Keys Redistricting Plan which includes opening the former International Student Center (ISC) building on North Druid Hills (East of Briarcliff – 2383 N Druid Hills Rd, Atlanta, Georgia 30329-3126) to help alleviate overcrowding in the Cross Keys Cluster.
In accordance with half the district Regulations FDC-R and in violation of half the others, in May a renaming committee, consisting of 3 Hispanic parents and 7 administrators, met twice to decide what name to recommend to the board for the ISC building for the next few years it is open to temporarily house roughly 400 Montclair elementary students.
Naming Committee
1. Marshall Orson (Committee Chair) (Board Representative)
6. Melanie Pearch (Principal, Woodward ES)
2. Rebecca Jackson (Interim Region I Superintendent)
7. Cammie Neill (Principal, Briar Vista ES)
3. Sherry Johnson (Region I Coordinator)
8. Adelfa Lopez Salome (Parent)
4. Sandra Nunez (Director of EL Studies)
9. Didia Altamirano (Parent)
5. David Schaefer (Latin American Association)
10. Maria del Carmen Sanchez (Parent)
As reported by Trey Benton at the Brookhaven Post, "[In May] the DeKalb BOE announced agreements with the City of Brookhaven and the Georgia State Properties Commission to acquire 11.2 acres at Skyland Park for a new elementary school."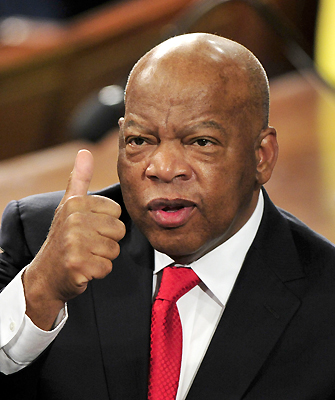 John Lewis (D)
U.S. House of Representatives
In direct conflict with just about every policy and regulation DeKalb Schools has on the books for naming schools, Marshall Orson asked the Board of Education to name the ISC building after his long time friend, John Lewis, South DeKalb's 5th Congressional District's Congressman.
The naming committee also requested that the name "John Lewis" Elementary School transfer to the new Skyland building in Brookhaven once construction has been completed.
Renaming the ISC building and the new Skyland Center in Brookhaven was placed on the agenda Friday before the Monday board meeting. I would also like to note for the record that Skyland Center is in Tom Price's 6th Congressional District and not in John Lewis' 5th Congressional District.
John Lewis is a civil rights leader leader and sitting U.S. Representative for Georgia's 5th congressional district. He most recently led Democrats in a surprise sit-in of the U.S. House in June in an attempt to force votes on gun control legislation.
---
Brookhaven Needs to Acknowledge John Lewis
July 14, 2016 – "Do you believe Brookhaven would chose to name their new elementary school after John Lewis?" – No. Brookhaven needs to come into this century and acknowledge John Lewis, says Vickie Turner, School Board Member from District 5.