[jetpack_subscription_form title="DeKalb Schools 2016-2018 Calendars" subscribe_text="Enter your email address to receive DeKalb Schools updates!" subscribe_button="Keep Me In The Loop" show_subscribers_total="1″]
I was informed that The Calendar Committee "was comprised of a variety of stakeholder groups, including students, parents, community/business partners, school-level staff, and district level advisers." The Calendar Committee discussed the number of days per year, number of days per semester, inclement weather/emergency days, testing windows, spring breaks, holidays, school breaks, and other metro area school districts' calendars.
Tomorrow, the board will discuss and approve the 2016-17 and 2017-18 school calendars.  The Calendar Committee released the proposed 2016-17 calendar this evening and answered some questions posed by readers of this blog.

2017-2018  Calendar

2016-2017  Calendar

2015-2016  Calendar

  2016-2017  Calendar

  2017-2018  Calendar

02/01/2016 – DeKalb Schools 2016-2017 Calendar Update
Question:  How did we come to this start date?
Calendar Committee:  There were 8,050 responses to the online survey.  48% was community and stakeholders.  A majority of the community prefers a later start date.
Question:  How did we address religious holidays conflicting with the testing schedule?
Calendar Committee:  Except for PSAT, there will be no testing in September or October.
Question:  Why don't the students have school on Nov 8, election day?
Calendar Committee:  The community feedback was that parents want their children to be off from school on election day. 
Please comment here with any thoughts or questions.


click to enlarge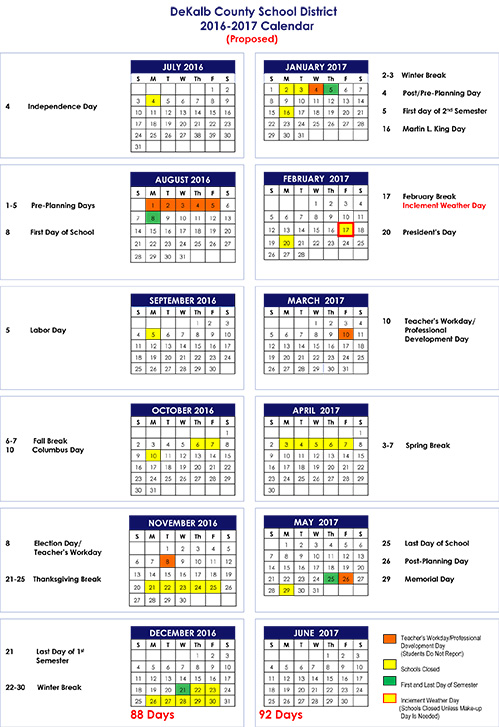 | Calendar Attributes | 2016-2017 | 2017-2018 |
| --- | --- | --- |
| Pre-planning | Aug 1 – 5, 2016 | July 31 – Aug 4, 2017 |
| First day of school | Aug 8, 2016 | Aug 7, 2017 |
| Labor Day | Sept 5, 2016 | Sept 4, 2017 |
| Fall Break (Including Columbus Day) | Oct 6 – 10, 2016 | Oct 5 – 9, 2017 |
| Election Day/Teacher's Workday | Nov 8, 2016 | Nov 7, 2017 |
| Thanksgiving Break | Nov 21 – 25, 2016 | Nov 20 – 24, 2017 |
| Last day of 1st semester | Dec 21, 2016 | Dec 20, 2017 |
| Winter Break | Dec 22, 2016 – Jan 3, 2017 | Dec 21, 2017 – Jan 2, 2018 |
| Post planning 1st semester/ Pre-planning 2nd semester | Jan 4, 2017 | Jan 3, 2018 |
| First day of 2nd semester | Jan 5, 2017 | Jan 4, 2018 |
| Martin L. King Day | Jan 16, 2017 | Jan 15, 2018 |
| Feb Break (Including President's Day) | Feb 17 – 20, 2017 | Feb 16 – 19, 2018 |
| Inclement Weather Day | Feb 17, 2017 | Feb 16, 2018 |
| Professional Learning Day | March 10, 2017 | March 9, 2018 |
| Spring Break | April 3 – 7, 2017 | April 2 – 6, 2018 |
| Lemonade Days Carnival | April 19 – 23, 2017 | |
| Last day of school | May 25, 2017 | May 24, 2018 |
| Post planning | May 26, 2017 | May 25, 2018 |
| Number of days 1st semester | 88 | 88 |
| Number of days 2nd semester | 92 | 92 |
| Total number of school days | 180 | 180 |