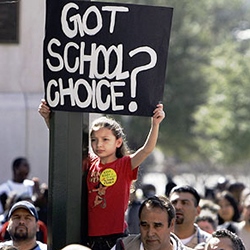 Charter Office
Conversion-Renewal and Start-Up Renewal Petitions will be reviewed in the fall 2015. The District received four renewals and 1 new start-up petition:
Destiny Achievers Academy of Excellence (Start-Up Renewal)
DeKalb Academy of Technology & Environment (Start-Up Renewal)
Chamblee Conversion Charter High School (Conversion Renewal)
Peachtree Charter Middle School (Conversion Renewal)
East Atlanta Charter School (New Start-Up)
The District and Board of Education will have 90 days to review all 4 petitions. These petitions are expected to be scheduled for action by the Board of Education at the November 2015 DeKalb Board of Education Meeting.
The East Atlanta Charter School Petition and Cumulative Review Results, which includes the
 District's rationale for a denial to the Board of Education, were delivered to Board members on August 21. This petition has been scheduled for action at the September 14 Board meeting.
School Choice
This school year elementary and middle school students will complete the Iowa Tests of Basic Skills test (ITBS) in September. During this time, the School Choice Office will offer currently enrolled 4th, 6th and 8th grade students and private and home school students in 3rd – 8th grades the opportunity to complete the ITBS. The sole purpose of the test is to determine if the students are eligible to apply for admission to the 2016 – 2017 school year at:
High Achievers Magnet Programs at Wadsworth Magnet School
Chapel Hill Middle School
Southwest DeKalb High School
Kittredge Magnet School
Chamblee Middle School
Chamblee Charter High School
Environmental, Energy and Engineering Magnet Program at Arabia Mountain High School.
School Flexibility Option
The District has begun the work to update the charter application and allow it to meet new GaDOE requirements. Part of this process will include the Community Engagement Sessions. The dates for these sessions will be adjusted and set to occur during the middle of September to allow for proper notification of our community and stakeholders, with the focus of these meetings on the Local School Governance Teams that will be required at each school and how those teams will have the opportunity to assist in the governance of the school.
As a standing reminder, November 1, 2015 is the deadline to submit the district's current charter petition application if the district wishes to begin operating as a charter district at the beginning of the 2016-2017 school year.
Various board members  will have mini meetings in the near future to meet with the Superintendent and designated staff regarding the School Flexibility Option.