On Monday, the School District Administration will be asking the DeKalb Board of Education to approve $425,000 to purchase one AP exam for all students currently enrolled in an Advanced Placement Course.
The Georgia Department of Education (GaDOE) will pay for one Advanced Placement exam for students who qualify for the Free and Reduced Lunch program. Additionally, the GaDOE will cover the cost of one Science, Technology, Engineering, and Mathematics (STEM) focused Advanced Placement exam for all non-free and reduced lunch students.
Return on Investment
The school district has paid for these additional AP exams for many years. Is this money well spent? What results are we seeing? Unfortunately, less than 10% of the students in half our high schools score high enough on these AP exams to receive college credit. Given this, combined with the fact that many DeKalb students will already get 2 free exams provided by the state, is this the best use of $425,000? Could this money be used in another way that improved educational outcomes and produced a higher return on investment?
AP EXAM SCORE TRENDS
AP EXAM SCORE DISTRIBUTION
Any score that's 3 or higher is considered a passing score, though some colleges only accept 4s and 5s for credit. I drilled down into exam results of Towers HS and MLK Jr HS to better understand their performance. Towers has a 1% pass rate and MLK has a 4% pass rate. Here's how that breaks down.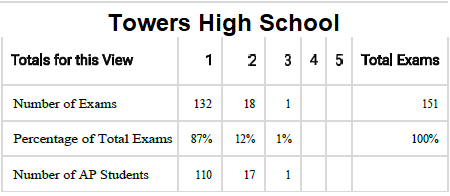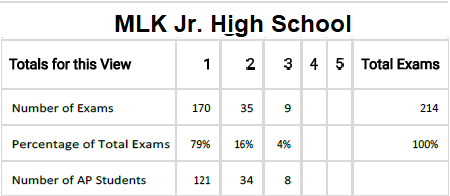 CLASS GRADES
Given these numbers, I was curious about the distribution of grades in these AP classes. In theory, your class performance should be a good predictor of how likely you are to pass the exams. The class average information that I was provided shows that these schools have class averages of 83% to 89%. The class averages do not seem to correlate with, or predict, success on the AP exams. It would be interesting to see the class average data for schools that have higher AP success rates. What if the grade averages are similar even though they have much higher AP success rates? What would that tell us about instruction and grading across the district? How can we use this data to drive more AP exam successes? Is the best use of resources to pay for more exams or improve instruction?
The following are the class final grade averages for each subject.
---
I asked DeKalb Schools Chief Academic Officer, Stacy Stepney, and the DeKalb Schools Interim Associate Superitendent of Accountability, Dr. Linda Frazer, to explain the rationale for this expense.
Question: The school district is asking for over $400K for Advanced Placement exams. Almost half the schools had less than a 10% pass rate. Is this the best use of our money? Wouldn't that money be better spent on remediation?
Answer: According the 2014-2019 Strategic Plan, the District's strategic goal area 1 is "Student Success with Equity and Access". (See the attached 2018-2019 Strategic Plan Profile.) One of the identified performance objectives is to provide equitable access to academically rigorous courses and programs. As a result, the District considered the baseline data in 2013-2014 to identify targets for 2014-2019. The District has implemented several initiatives and developed performance measures to address equity and access. The performance measures included:
• Increase the percentage of graduates earning high school credits for accelerated enrollment via ACCEL, Dual HOPE Grant, Move On When Ready, Early College, Gateway to College, Advanced Placement courses, or International Baccalaureate courses
• Increase the number of males of color taking advanced courses (i.e. Honors, AP, and IB)
• Increase the number of females of color taking advanced courses (i.e. Honors, AP, and IB)
• Increase the percentage of students scoring 3 or higher on the Advanced Placement exam
The most important predictor of college success is an academically rigorous high school experience. AP, IB, and dual enrollment provide students access to academically rigorous coursework; therefore, the District is requesting to purchase one AP exam for all students.
Question: If the experience of taking advanced placement exams is extremely valuable, couldn't we do mock examinations much cheaper?
Response: CollegeBoard has released questions, so teachers may create free, mock exams to prepare for the AP examinations in May. Mock exams will not afford students the opportunity to exempt equivalent college-level courses if they earn 3 or higher.