DeKalb County School District (DCSD) has updated the long-term enrollment forecasts for each school year from the Fall of 2019 through the Fall of 2025.
METHOD
The forecast uses a method of population forecasting called "cohort‐survival analysis". In this method, future enrollment is forecasted based on historic matriculation patterns from grade to grade, birth rates, future housing development, and historic patterns of school‐choice enrollment.
I don't believe these estimates numerous developments coming down the pipe including the High Street Development which includes 1,500 condos and 1,500 apartments.
As recently as April 3, 2018, DCSD planning insisted that the current Peachtree MS 8th grade was the peak of enrollment. However, the administration didn't have an answer for why then they were putting more trailers there.
Even with these conservative estimates, Dunwoody HS (DHS) enrollment is expected to exceed 2,300 by 2021. The current enrollment capacity for DHS is 1,505. The district plans on a 600 seat building addition to be completed in 2022. DHS will be at least 200 seats overcapacity on the day the seat additions are completed.
How are DHS Building Additions a good idea?
I don't understand how adding 600 seats to DHS every 5 years is a good idea. The band practices in the basement, there is no choir room and all the common spaces were built to accommodate 1,500 students. The DHS building additions will not include any renovations or additions to existing media rooms, art rooms, hallways, gymnasium, locker rooms, administrative offices, storage, or any other core spaces or surrounding infrastructure.
Dunwoody Elementary School
DES is forecasted to reach almost 1,600 students over the next few years. The Austin ES rebuild will affect enrollment across the district.
Austin Elementary School Rebuild
In August, the district announced a delay in the opening of the new Austin ES. Redistricting process will be delayed one year: the process will occur in Fall 2019 (instead of Fall 2018) and the redistricting will be effective for Fall 2020 (instead of Fall 2019). The Austin ES existing school will move to the new building over Christmas break (2019-2020) for a partial (only existing Austin ES students) opening in January 2020. The redistricted students would then attend the new Austin ES in August 2020.
---
OVERVIEW
DeKalb Schools district wide enrollment grew from 99,091 in the Fall of 2012 to a peak of 101,801 in the Fall of 2014. Enrollment began to decrease in the Fall of 2015 and continued to decrease in the Fall of 2016 and 2017 before falling to 99,212 in the Fall of 2018. The DCSD Long‐Term Forecast projects enrollment to continue to decrease to 97,026 enrolled in 2025.
---
ENROLLMENT BY REGION
Enrollment in Region 1 (Dunwoody, Chamblee, Cross Keys clusters) is expected to increase from 19,452 in 2018 to 20,010 in 2025 (+2.9%). Enrollment in Region 2 is expected to decrease from 17,906 to 17,414 in 2024 (‐2.7%). Enrollment in Region 3 is expected to decrease from 10,963 to 9,941 (‐9.3%). Enrollment in Region 4 is expected to decrease slightly from 9,895 to 9,860 (‐0.4%). Enrollment in Region 5 is expected to decrease from 12,357 to 11,512 (‐6.8%). Enrollment in Region 6 is expected to decrease from 7,138 to 6,713 (‐6.0%). Region 7 is expected to decrease from 7,329 to 7,194 (‐1.8%).
---
KEY – DEFINITIONS
All – All students residing in the attendance area
Enrollment – All students enrolled in the school, regardless of residence
ResAttendee – All students residing in the attendance area and enrolled in the school
DUNWOODY HIGH SCHOOL
Year – Enrollment
2012 – 1,510
2013 – 1,563
2014 – 1,679
2015 – 1,679
2016 – 1,822
2017 – 2,982
2018 – 2,095
2019 – 2,234
2020 – 2,273
2021 – 2,348
2022 – 2,316
2023 – 2,311
2024 – 2,363
2025 – 2,337
---
PEACHTREE MIDDLE SCHOOL
Year – Enrollment
2012 – 1,339
2013 – 1,378
2014 – 1,398
2015 – 1,478
2016 – 1,550
2017 – 1,572
2018 – 1,589
2019 – 1,584
2020 – 1,615
2021 – 1,614
2022 – 1,632
2023 – 1,554
2024 – 1,552
2025 – 1,513
---
Dunwoody Elementary School Enrollment Forecast 2019 – 2025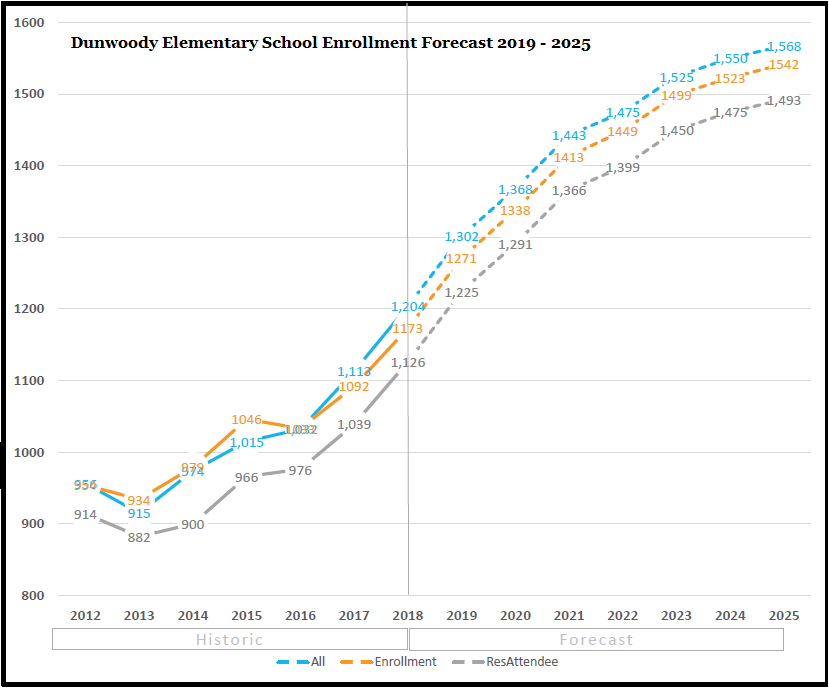 Austin Elementary School Enrollment Forecast 2019 – 2025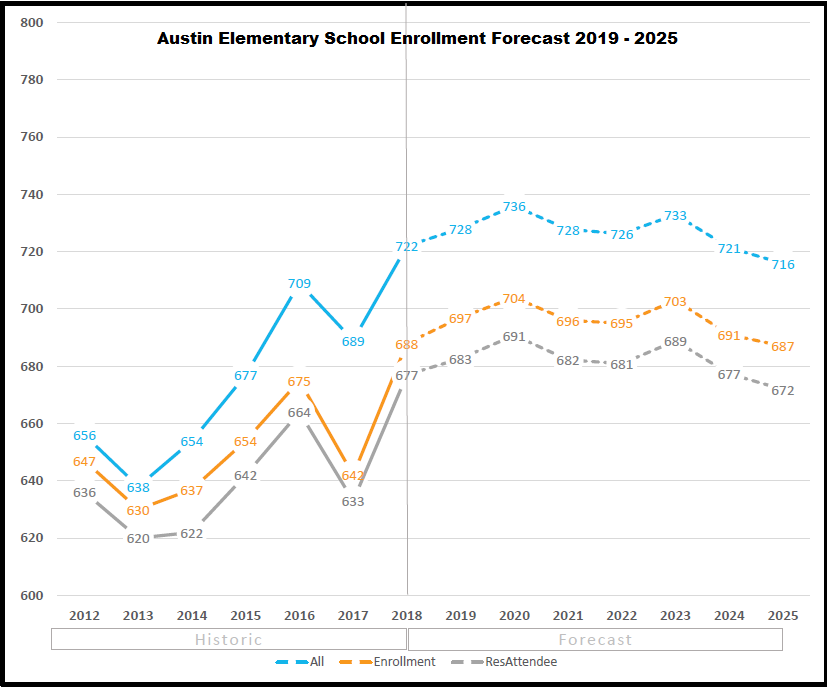 Vanderlyn Elementary School Enrollment Forecast 2019 – 2025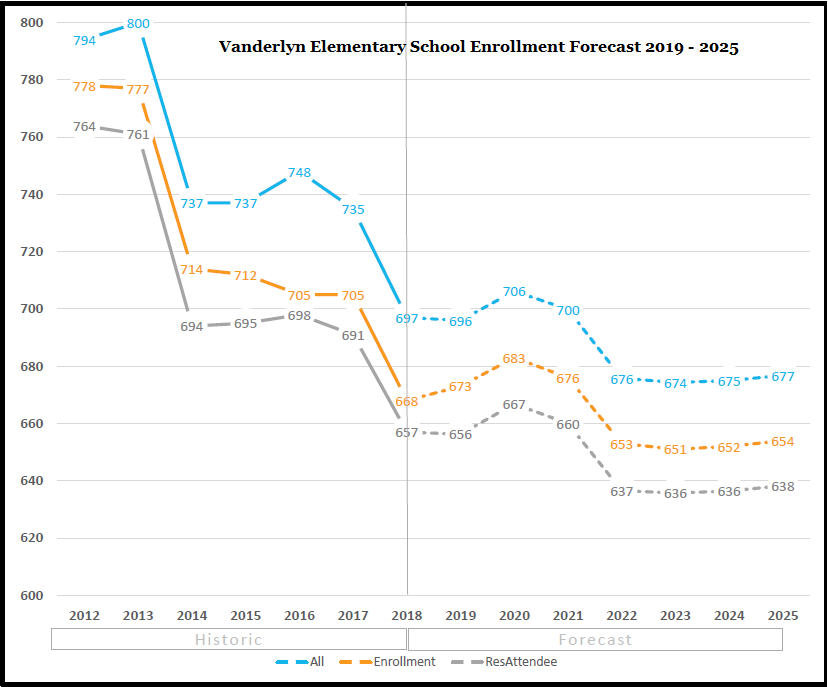 Kingsley Elementary School Enrollment Forecast 2019 – 2025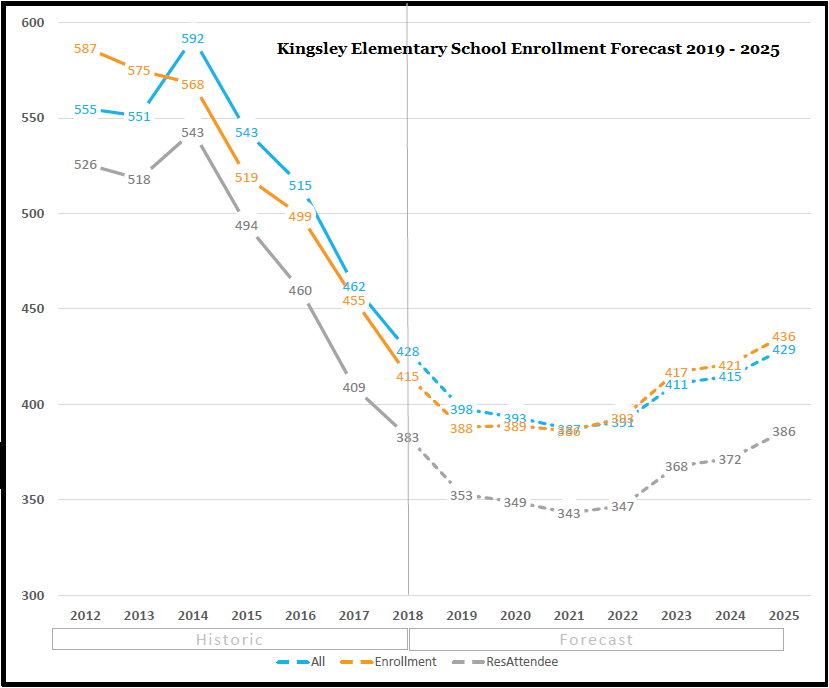 Chesnut Elementary School Enrollment Forecast 2019 – 2025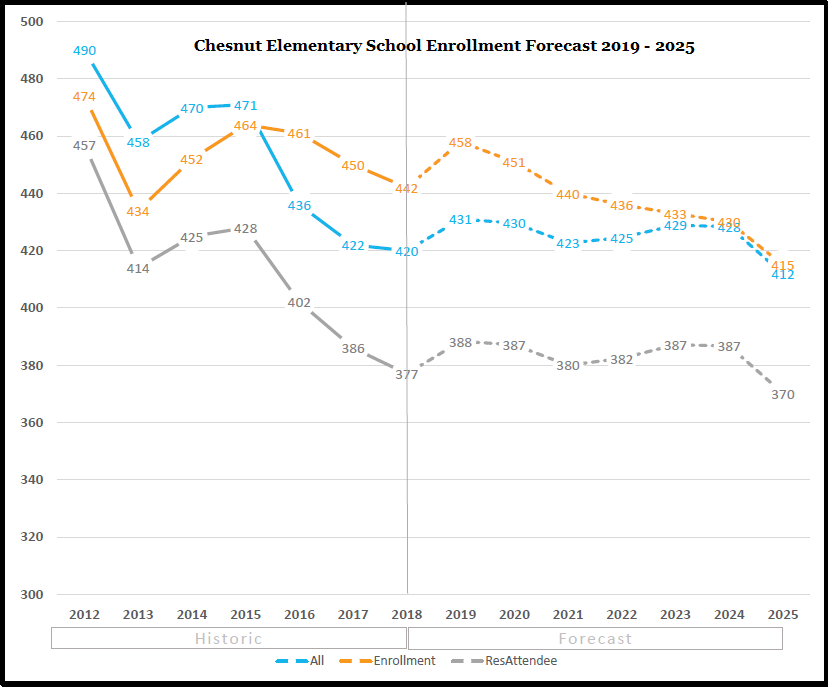 Hightower Elementary School Enrollment Forecast 2019 – 2025