DeKalb Schools will implement a new salary schedule starting January 1. It will be discussed and voted on by the board on January 7th in time for January 15th checks.
---
More Recent Posts on DeKalb Schools Salary Schedule
Employee Compensation Update
February 27, 2019 – Last year, Management Advisory Group (MAG) completed a Salary and Compensation Study for the DeKalb County School District. DeKalb Schools is going back to the drawing board for classified staff, everyone not certified. Superintendent Green has reached out to Gwinnett Schools to enlist their help.
Need Input – New Salary Schedules
February 12, 2019 – DeKalb Schools administration is moving fast and furious to correct this issue. I'm trying to get out and vet the documentation as expeditiously as possible.
I could use your feedback.
Questions – New Teacher Salary Schedule
January 29, 2019 – There has, no doubt, been a lack of communication from the administration on how the new teacher salary schedules will work. The minimal communication in tandem with misleading charts and a complicated system to begin with has lead us to where we are now.
Compensation & Classification Salary Adjustments
January 15, 2019 – From the Sharepoint Portal (Word for Word): ​DeKalb County School District (DCSD) has completed its most recent Compensation & Class Study, mandated by Board of Education Policy GCA.
Update On Phase 2 Salary Steps for All Staff
January 10, 2019 – On Monday, the DeKalb Schools Board approved the Salary Steps for All Staff – Phase 2-2a. Most employees will get a competitive raise and everybody will start stepping again. There are a few hurdles, however, with implementing said raises in a timely fashion.
---
2019 Salary Schedules And Comparison
December 29, 2018
DeKalb Schools
Policy GCA says, "The compensation program shall have a comprehensive review at least every five years." In Nov 2017, in accordance with Policy GCA, Management Advisory Group International (MAG), was engaged to perform a Compensation and Classification (Comp & Class) study.
---
Salary Schedule & Comparison
Here are the new teacher and counselor salary schedules and how they compare to the other Metro Atlanta school districts.
T4 = Bachelors
T5 = Masters
T6 = Specialist
T7 = Doctorate
Proposed Teacher Salary Comparison FY19

Proposed Counselor Salary Comparison FY19

Proposed Salary Schedule – ALL EMPLOYEES
T4 = Bachelors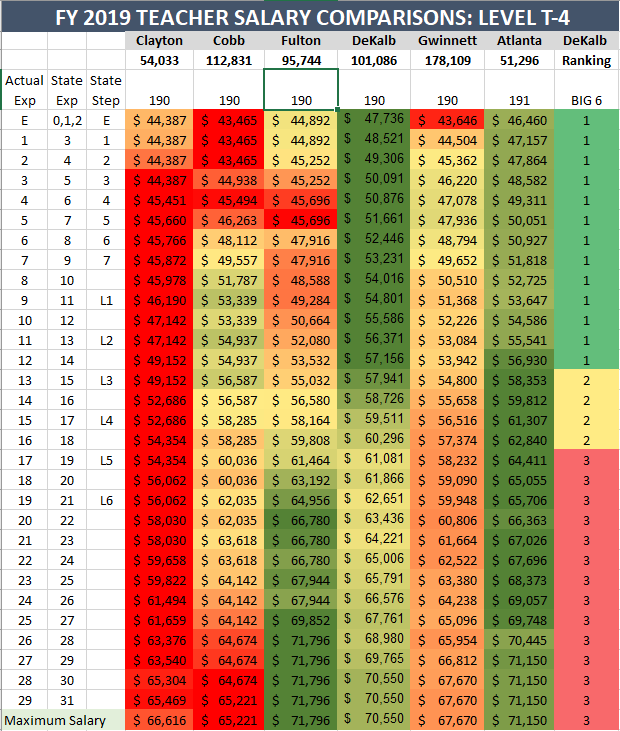 T5 = Masters