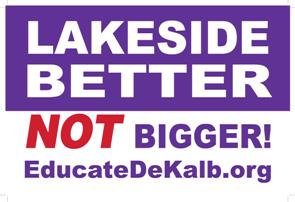 The DeKalb County School District (DCSD) conducted a Secondary School Facility Planning and Feasibility Study to develop long-term plans for addressing capacity needs of the district's middle schools and high schools.
Instead of building a new high school in Doraville, the board and administration decided to add classrooms, kitchen space, cafeteria space and parking to Lakeside High School (LHS), Chamblee Charter High School (CCHS) and Dunwoody High School (DHS).
Can anybody tell me how adding 750 seats and squeezing 2,400 students like sardines into Lakeside High School will be good for anybody in that community?
The opposition to the building additions has been gaining momentum.
---
EducateDeKalb.org has initiated a campaign to make "Lakeside Better Not Bigger". In their own words …
Overcrowding at Lakeside High School (LHS) has become a crisis. As part of a larger overcrowding problem in its northern areas, the DeKalb County School District (DCSD) Board of Education (BOE) has approved physical plant expansions to 3 high schools in those areas (of which one is LHS) in order to increase the student population at each school. Based on continued growth in the area and DCSD predicted enrollment, this expansion would not solve current overcrowding problems.

LHS was built in the 1960's and expanded in 2012 to accommodate 1,796 students (SPLOST III). As of October 2017 LHS enrollment was 2,165 and growing. The $26M planned expansion will add 750 seats to the LHS campus, bringing its capacity to 2,500+ students with projected enrollment of 2,600+. For many reasons, we believe this "approved solution" will potentially damage the LHS student experience, academic achievement, and extracurricular activities, as well as the surrounding neighborhoods.

LHS has a strong heritage of academic excellence, but over the past 10 years its performance trajectory has steadily declined. The DeKalb County Board of Commissioners are urging the DCSD to halt this LHS expansion and develop a comprehensive, informed strategic plan for the whole district before building or expanding any existing facilities. We believe a better plan would more effectively include building a new high school and reducing the LHS student population to 1,796, which it was expanded to accommodate in 2012.
12 Reasons Lakeside High School Should Be BETTER, not Bigger
The DeKalb County School District plans to address overcrowding at Lakeside High School by adding 750 additional seats, bringing the enrollment capacity to over 2,500 students by 2022.
The proposed plan attempts to turn a small, circa-1960, neighborhood high school, that was built for only 1,200 students, into a mega-school for 2,500+. Instead of building a large, modern, state-of-the-art school, they will just add 38 classrooms and expand portions of the kitchen, cafeteria, and media center. A school of 2,500 requires a minimum campus size of 45 acres per state DOE standards. The Lakeside HS site contains 33 acres.
The proposed plan does nothing to address or enhance the overall safety and educational opportunities of Lakeside students, beyond temporarily eliminating portable classrooms.
DCSD's own published enrollment projections predict that Lakeside will be overcrowded again after the addition is completed in 2022.
Much of the original building and previous 2012 addition will be entirely untouched, despite the addition of 750+ students. The unimproved portions of the campus will include the original classrooms, gymnasium, swimming pool, hallways, and stairwells (which were built in the early 1960s to accommodate half as many students), locker rooms, restrooms, auditorium, visual and performing arts classrooms, technology labs, office and counseling suites, ROTC and culinary arts classrooms, storage, workrooms, and utility spaces.
The additional 750 students and staff will result in increased traffic on our already congested two-lane roads, which may lead to longer emergency response times and extended commute times for area residents, LHS staff, and students.
Frequent traffic congestion has a negative impact on student achievement, as students arrive late to school and miss portions of first period instruction. Buses leaving Lakeside may also be late transporting students to Henderson Middle School.
Traffic congestion will likely be worse in the near future due to the development of CHOA at Druid Hills Road and the purchase of Briarcliff UMC by Globe Academy at Shallowford Road.
The Dewberry Study revealed that our fragile watershed cannot accommodate additional development in the region. The intersection of Briarlake and Briarcliff Roads floods after heavy rains and prevents safe passage for pedestrians, school buses, and emergency response vehicles.  This poses a public safety threat for neighborhood residents, students, faculty, and school administration.
The size of the Lakeside's attendance zone, stretching from DeKalb's border with Gwinnett County near Pleasantdale Road all the way down to neighborhoods beyond Clairmont Road, is simply too large to allow all students to participate in the many opportunities that exist before and after school hours at Lakeside, such as clubs, athletics, music, drama, volunteering, and tutoring.
The proposed multi-story parking garage near Oak Grove Road and relocation of the girls' softball field to the wooded area behind the school will cause many more problems than they will solve.
The DeKalb County Commission, Lakeside School Council, as well as many concerned citizens, have all asked DCSD, Superintendent Green, and the Board of Education to find a better solution to overcrowding at Lakeside High School.
---
Final Report of Secondary School Facility Planning and Feasibility Study– October 31, 2016

Proposed Recommendations for Addressing Challenges and Opportunities of Middle Schools & High Schools (Oct. 31, 2016)
Final Recommendation – September 27, 2016 Informational Meeting
Final Recommendation Presentation (Sept. 27, 2016)
Final Recommendation Handouts (Sept. 27, 2016)
---
RELATED POSTS
750 More Seats at Lakeside HS? Why?
January 30, 2017 – Lakeside High School is currently cramming 2,184 students into a building with a capacity of 1,756 students. Only one other school in North DeKalb scored a below average 2016 School Climate Star Rating. How will adding 750 seats to Lakeside High School improve their School Climate Star Rating and academic achievement?
.
Is 600 More Seats At Chamblee Charter HS A Good Idea?
January 17, 2017 – Please help me understand why adding 600 seats to Chamblee Charter High School is good for anybody in that community? I suspect that any support is driven by redistricting.
Pros and Cons of adding 600 seats to Dunwoody HS
January 7, 2017 – Moving forward, I'm trying to understand the support for the building addition at Dunwoody High School. The speculation that some Dunwoody residents would be redistricted out of DHS seems to be the only reason for any continued support of the building additions.