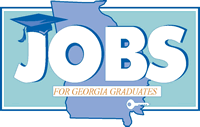 Barely managing to graduate every other student that enters high school, DeKalb Schools had a 59% graduation rate in 2013. In an attempt to increase graduation rates and help students find an on-ramp into the middle class, the DeKalb Schools Board voted to participate in the Jobs for Georgia Graduates (JGG) program.
The Jobs for Georgia Graduates Program has partnered with the Georgia Department of Labor and is a state affiliate of the national Jobs for America's Graduates (JAG) Program. JAG programs help underserved students overcome barriers to graduation through mentoring, tutoring, academic support and links to social services among other interventions.
40 to 45 students will be selected to participate from each of these five high schools: Cross Keys High School, Clarkston High School, Lithonia High School, Ronald E. McNair High School, and Towers High School.  JGG includes a Job Specialist assigned to each school to provide services to targeted students. Students will be selected by an advisory committee composed of a school administrator, counselor, vocational education teacher, basic skills teacher and the job specialist. Students will be targeted that have educational as well as personal barriers to academic and employment success.
The Jobs for Georgia's Graduates program currently operates in 22 schools elsewhere in the state.  Last year, the program boasted a 96% graduation rate and 87% successful outcomes, meaning students went on to post-secondary education, employment, or some combination of the two.